A Sleek, Modern Wedding
Kendra and Quadean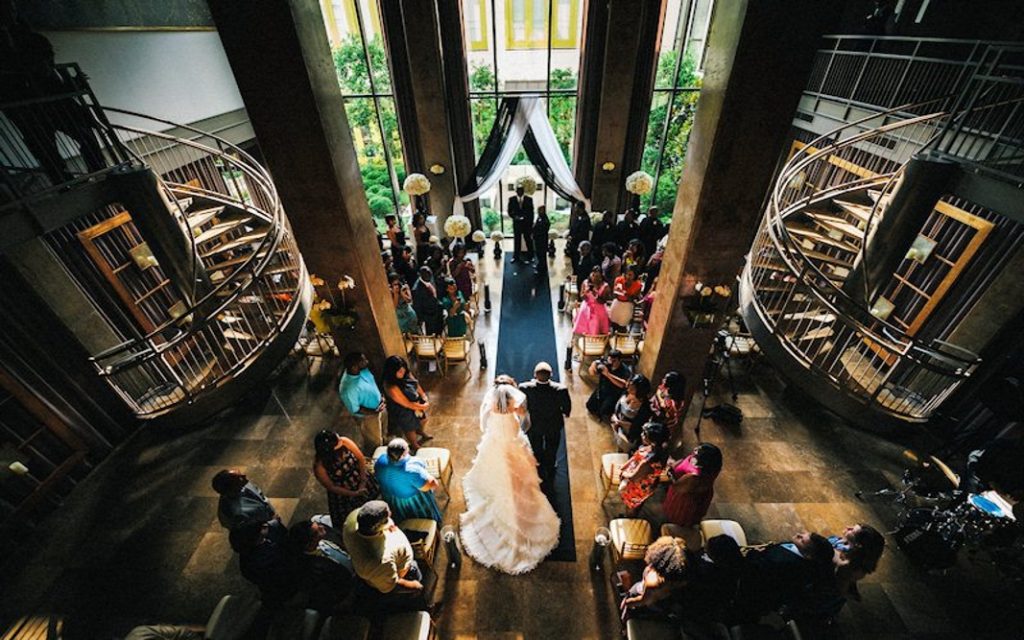 Kendra and Quadean were clearly made for each other and were so excited to share their story with a gorgeous black and white themed wedding in the Social Lobby and Weaver Room at Proximity Hotel in Greensboro.  The bride and groom chose Proximity to go along with their sleek, modern and elegant décor ideas.  From a monogram on a white dance floor, to elegant customized signage and black and white anemones, it was truly a Knight to remember.
The ladies spent the day getting ready in a City Suite atop Proximity Hotel, while the gentlemen gathered in a Loft King Room.
The first dance in the Weaver Room on a custom white dance floor.
Kendra and Quadean designed custom signage that was used throughout the ceremony and reception with their monogram. This monogram was even included on the dance floor!
Because Kendra is a teacher, they had milk carton favors to go with their delicious cupcake display.
The Weaver Room shines with black and white decor. Flower Centerpieces by Petal Creations.
Menu by Print Works Bistro
The cocktail hour menu included Slider Burgers accompanied by French Fries in tin pails (a big hit).
The Plated Dinner Menu included:
Seasonal Greens with House Vinaigrette and Creamy Herb Dressing
Choice of Chicken Piperade, Seared Salmon with Honey Lime Butter Sauce, or Filet Mignon with Diane Sauce with Mashed Potatoes and Sauteed Green Beans
Left: The Bride & Groom taking a stroll in the Bluebell Garden after the ceremony. Right: Stealing a moment alone in the Social Lobby during the reception
A grand send-off for the bride and groom!
Kendra's handmade personalized wedding dress hanger.
THE WEDDING MAGIC MAKERS
Ceremony Venue: Proximity Hotel, Social Lobby
Reception Venue: Proximity Hotel, Weaver Room
Chef Designed Menus: Print Works Bistro
Wedding Planner: Laura Jennifer with  Laura Jennifer Events
Florist: My Petal Creations
Bakery: Edible Artistry (Flavors: Tres Leche and Strawberry)
DJ: James Thompson/J Rock Productions
Linens & Chairs: Happy Rentz
Photographer: Vesic Photography
Uplighting (for Reception) and Draping (for Ceremony): Carey Sound
Photobooth: Red Carpet Events
Videographer: Jeff Brewer
For more information about planning your wedding or event Greensboro, North Carolina, please email our wedding and event specialists or give us a call at Proximity Hotel: 336-478-9111 or O.Henry Hotel: 336-478-9112.